Product Descriptions
The rugged, leak-free construction of Versamatic's 2" (51mm) bolted plastic air-operated double-diaphragm (AODD) pump has a maximum flow rate of 192 gpm (727 lpm) for optimal pumping performance. Some of the features of this AODD pump include:

- Excellent flow rate
- Multiple porting configurations for installation flexibility
- Superior chemical resistance
- Lightweight construction
- Self-priming
- On/off reliability
- Non-freezing, non-stalling

2" bolted plastic AODD pumps consist of polypropylene and polyvinylidene fluoride (PVDF). Known for its moderate tensile and flex strength, polypropylene is a thermoplastic polymer that resists strong acids and alkali. PVDF is a durable fluoroplastic with excellent chemical resistance and high tensile strength and impact resistance. PVDF is best suited for UV applications.


Versamatic's 2" pump is the ideal solution for applications where aggressive chemicals are being moved. These pumps feature wear-reducing components and chemical-resistant materials that further improve your total cost of ownership.

As an AODD pump manufacturer, Versamatic is committed to making pumping easy from product selection to installation and beyond."



Model Number Guide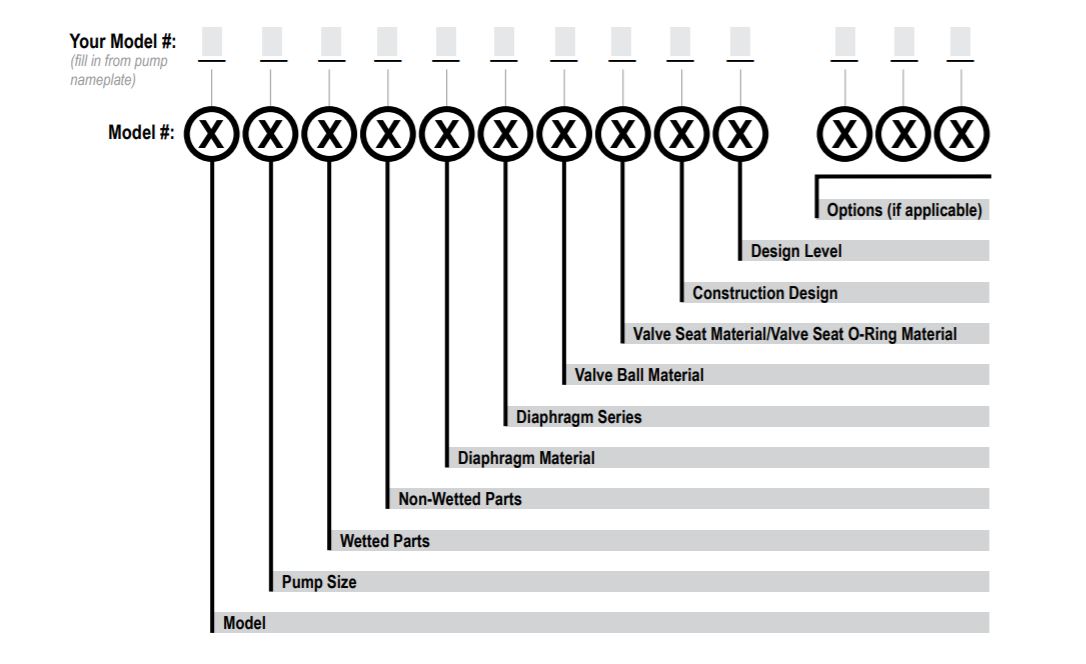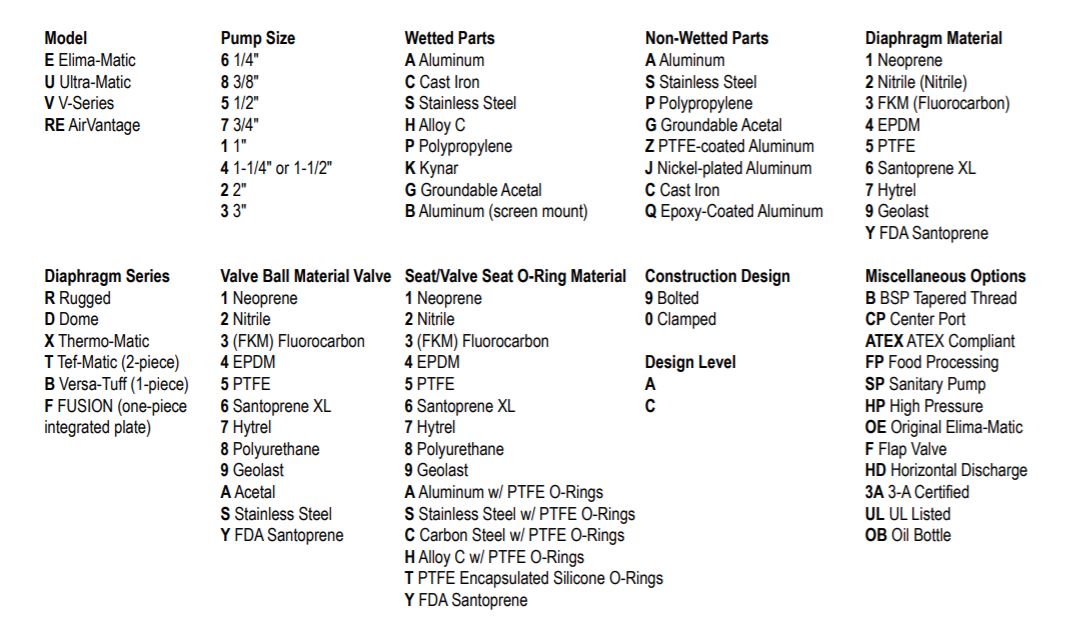 Model
E Elima-Matic
U Ultra-Matic
V V-Series
RE AirVantage
Pump Size
6 1/4"
8 3/8"
5 1/2"
7 3/4"
1 1"
4 1-1/4" or 1-1/2"
2 2"
3 3"



Wetted Parts
A Aluminium
C Cast Iron
S Stainless Steel
H Alloy C
P Polypropylene
K Kynar
G Groundable Acetal
B Aluminium (screen mount)
Non-Wetted Parts
A Aluminium
S Stainless Steel
P Polypropylene
G Groundable Acetal
Z PTFE-coated Aluminium
J Nickel-plated Aluminium
C Cast Iron
Q Epoxy-Coated Aluminium


Diaphragm Material
1 Neoprene
2 Nitrile (Nitrile)
3 FKM (Fluorocarbon)
4 EPDM
5 PTFE
6 Santoprene XL
7 Hytrel
9 Geolast
Y FDA Santoprene
Diaphragm Series
R Rugged
D Dome
X Thermo-Matic
T Tef-Matic (2-piece)
B Versa-Tuff
F FUSION (one-piece integrated plate)
Valve Ball Material Valve
1 Neoprene
2 Nitrile
3 (FKM) Fluorocarbon
4 EPDM
5 PTFE
6 Santoprene XL
7 Hytrel
8 Polyurethane
9 Geolast
A Acetal
S Stainless Steel
Y FDA Santoprene
Seat/Valve Seat O-ring Material
1 Neoprene
2 Nitrile
3 (FKM) Fluorocarbon
4 EPDM
5 PTFE
6 Santoprene XL
7 Hytrel
8 Polyurethane
9 Geolast
A Aluminium w/ PTFE O-Rings
S Stainless Steel w/ PTFE O-Rings
C Carbon Steel w/ PTFE O-Rings
H Alloy C w/ PTFE O-Rings
T PTFE Encapsulated Silicone O-Rings
Y FDA Santoprene
Construction Design
9 Bolted
0 Clamped

Design Level
A
C
Miscellaneous Options
B BSP Tapered Thread
CP Center Port
ATEX ATEX Compliant
FP Food Processing
SP Sanitary Pump
HP High Pressure
OE Original Elima-Matic
F Flap Valve
HD Horizontal Discharge
3A 3-A Certified
UL UL Listed
OB Oil Bottle
Dimension Drawing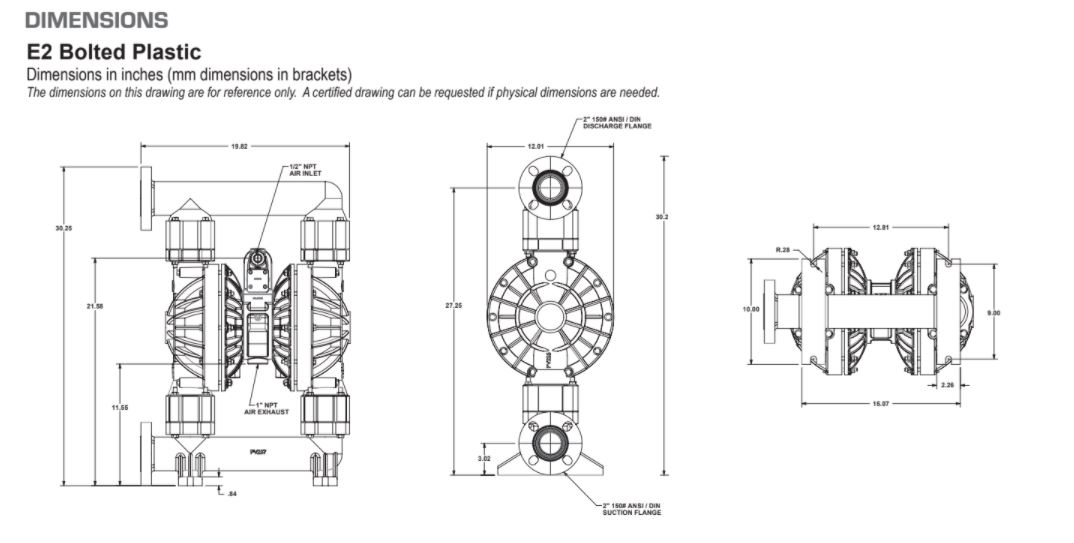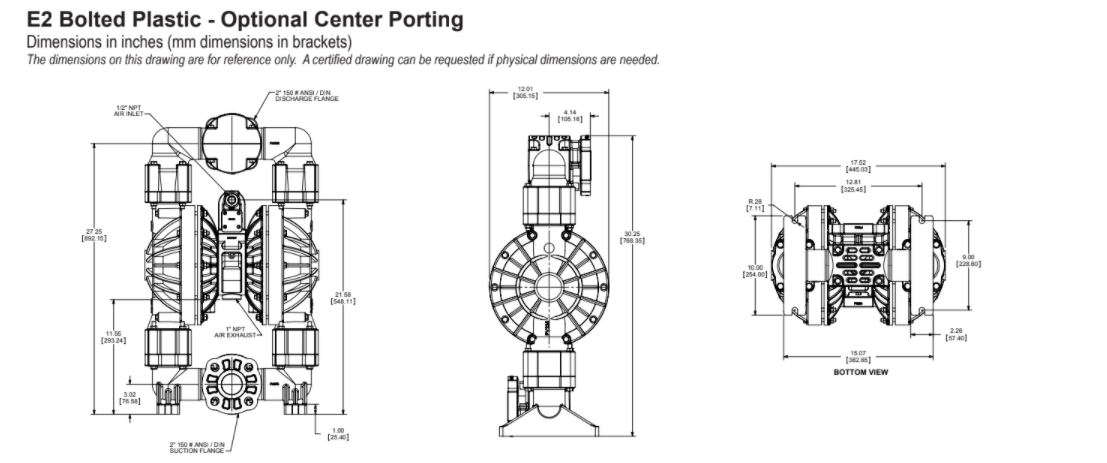 Technical Data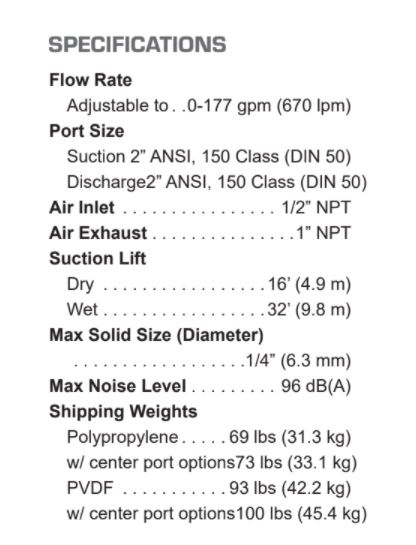 | | |
| --- | --- |
| Flow Rate | |
| Adjustable to | 0-177 gpm (670 lpm) |
| Port Size | |
| Suction | ANSI, 150 Class (DIN 50) |
| Discharge | ANSI, 150 Class (DIN 50) |
| Air Inlet | 1/2" NPT |
| Air Exhaust | 1" NPT |
| Suction Lift | |
| Dry | 16' (4.9 m) |
| Wet | 32' (9.8 m) |
| Max Solid Size (Diameter) | 1/4" (6.3 mm) |
| Max Noise Level | 96 dB(A) |
| Shipping Weights | |
| Polypropylene | 69 lbs (31.3 kg) |
| w/ center port options | 73 lbs (33.1 kg) |
| PVDF | 93 lbs (42.2 kg) |
| w/ center port options | 100 lbs (45.4 kg) |
Performance Curve